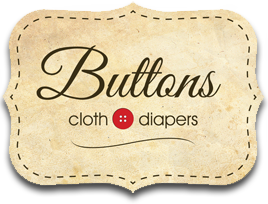 *I did receive product in order for this review. All opinions are my own
When I got the opportunity to review a
Buttons
cloth diaper I was so excited! I received this lovely
Tangerine
color
Buttons Cloth Diaper
for review. I like this color it is not overwhelmingly orange. This color makes me think of when you cut a cantaloupe and look inside, that is what it reminds me of.
Buttons are
waterproof diaper covers
with
snap in
inserts - A
two-in-one
system. They feel nice and soft not rough at all. Very
durable
and it is made with
two layers of PUL.
So you know that you will be able to use these for a very long time. This diaper cover has a cute little "button" on the back of the cover.
Buttons diaper covers fit from
9-35 lbs.
This diaper cover also features
double gussets
around the legs for containing messes and elastic in the
tummy area
and the back to get a great fit. I really liked that they come in 9 other colors, I was eyeing the
Pebble
color.
For review I received a one size Buttons diaper cover and 2 inserts. 1 large day time insert and large night time insert. I have to admit that these absorb A LOT! and they are microfiber inserts!

Yep! Microfiber! The daytime inserts are made of 4 layers of absorbent microfiber and it is topped with a layer of moisture-wicking fleece so it can lay against baby's bum. The nighttime insert is made of 6 layers of absorbent microfiber! So if you want extra absorbency for nighttime just snap this under the daytime insert and you are bulletproof all night! These inserts come in 2 sizes small 9-20 lbs and larger 20-35 lbs.
I tried our Buttons cloth diaper cover with 1 daytime insert and it help up very well no mess coming out the diaper because of the double gussets. Of course for nighttime I used both inserts and let me tell you, it held up a lot! 12 hours worth! I also tried the nighttime doubler insert in a pocket diaper and it worked really well all by itself! I think the nighttime insert is gold! I think that is why they can't keep em' stocked - they sell out. I also used the cover over a fitted on laundry day and everything was contained very well inside our Buttons. Totally waterproof if you ask me. I am quite impressed with the quality of these they do not feel flimsy or thin. Has the power of a hybrid but it's all in a cover & inserts.
If you want to find out for yourself how these diaper covers work then you totally should! The prices are not bad at all. I Buttons diaper cover runs for $11.00, daytime insert is $3.50, and a nighttime insert is $5.00 that's awesome. You can certainly get a few diaper covers and several inserts and build a stash and you can stay on budget.
Buy It
You can buy your Buttons here
Wint It
You can win your very own Buttons diaper and inserts here!
a Rafflecopter giveaway
*Disclaimer: As mentioned I received product in order for review. I was under no obligation to write a positive review in exchange for the product, my opinion is my own. I was not financially compensated for this post.