*I did receive product in order for this review. All opinions are my own
I recently had the opportunity to review a GlowBug cloth diaper! How exciting! because Glow Bug Cloth Diapers only come in packages - boy, girl, and gender neutral. For this review I received this cute print called
D
a
li
ah
! Boy, is it so stinking cute and the colors are so great together! As soon as I had enough fluff to wash I prepped this glow bug.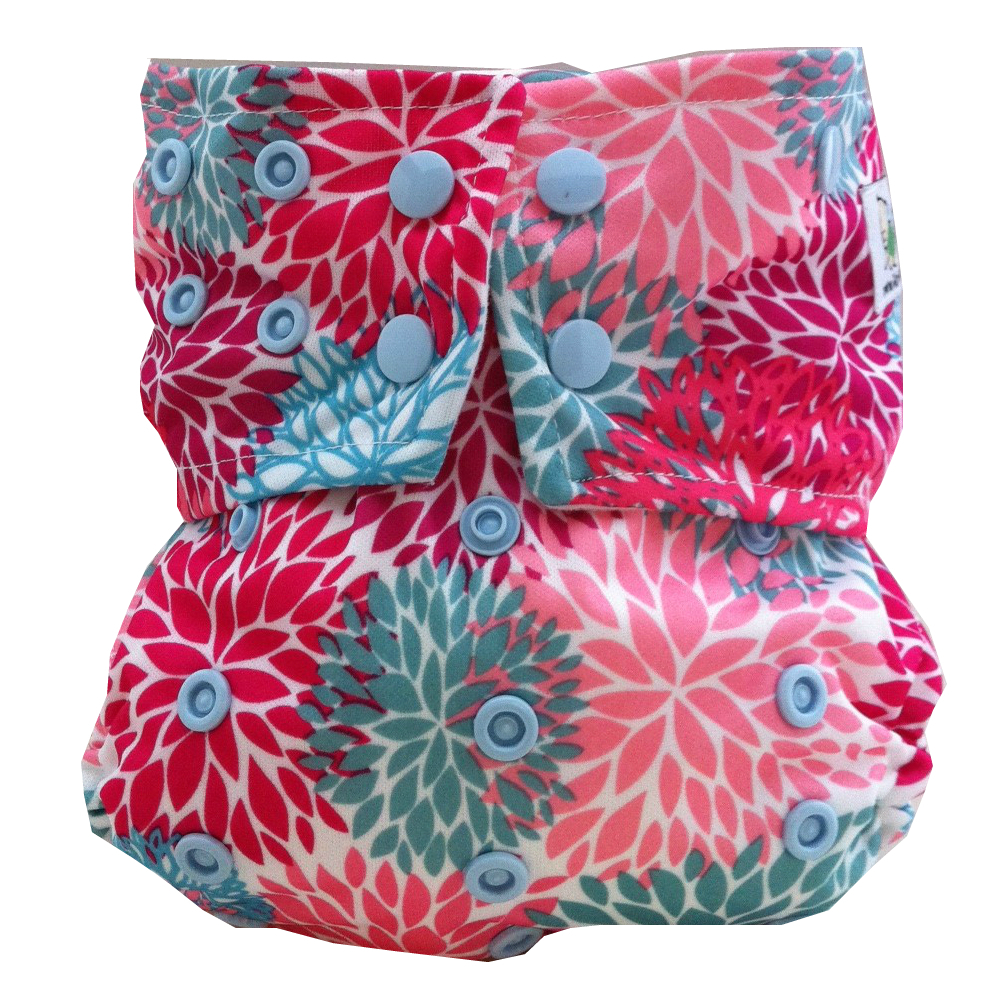 A Glow Bug cloth diaper comes with two microfiber inserts that you can snap in. These microfiber inserts go tucked inside and should never be against baby's skin. Since, it can cause irritation and rashes. All Glow Bug Cloth Diapers now have the new 360° gusset that goes all around on the inside - preventing blowouts. Also, featuring their SlimDry™ fabric keeping baby's skin dry without the bulk.
This diaper comes with double rows of snaps and two sets of cross-over snaps fitting even little newborns. It does have wing snaps, it prevents the wings from drooping down while being worn. I really like the
wide square tabs. They lie down flat against baby, no bulk, no complaints there.
You know what else makes a diaper adorable? The

matching

snaps! Glow Bug Diapers come with colored snaps for every print. I'm a sucker for adorable matching snaps on a diaper, and yes I prefer snaps on a cloth diaper.
I like that the inserts snap-in to prevent them from shifting inside, so they stay in place. We went without any leaks, so that is awesome! Best of all it does a great job keeping the mess inside. Yay for the 360° gusset! You know with a disposable it would of been all up getting over the clothes.(No I don't have nothing against disposables) Yeah, you know what I'm talking about.
I got a great fit with this diaper and it is seriously trim! It doesn't look all poofy and huge, even with double inserts. I can even put a pair of jeans on and it still looks good. So, I gotta say I am impressed with Glow Bug cloth diapers! These two moms really did think of everything when designing these cloth diapers.
So, how much are these? The price is right at about $12.50 a diaper. But, you do have to get them in a package. Package includes 12 cloth diapers and 18 microfiber snap-in inserts and they come in boy colors, girl colors and gender neutral. This package ends up costing $150 which is not bad and the prints are unique to Glow Bug, I haven't seen these anywhere else.
A little bit about Glow Bug Cloth Diapers
Glow Bug Cloth Diapers was founded by two moms who quickly became friends after meeting during a pre-natal yoga class. They were quite concerned with other brands so they decided to make their own. They wanted good quality and affordable cloth diapers.
Follow & Connect
Buy It
You can them here at $150 for a package of 12 diapers and 18 inserts
Wint It
The wonderful people over at Glow Bug Cloth Diapers is offering one of my readers a chance to win a Glow Bug! Woo Hoo!
a Rafflecopter giveaway
*Disclaimer: As mentioned I received product in order for review. I was under no obligation to write a positive review in exchange for the product, my opinion is my own. I was not financially compensated for this post.