Hello There :)
So for my birthday I got Urban Decay's Naked Palette! It is a palette including 12 neutral colors, 5 of them are new shades, and a Good Karma Shadow brush. Oh yeah! It also brings a mini eyeshadow primer potion.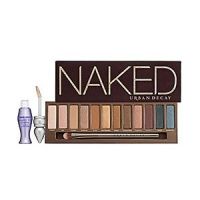 If you like to keep it simple & natural then, this palette is for you. Don't think "Nah I won't like it" You can definitely Get BOLD with this palette, creating smoky eyes. They are very pigmented! I love Urban Decay's eyeshadows they gilde so easily on your eyes! The shadows are very blendable too! Use it with Eyeshadow Primer Potion and you are set! Their primer makes the eyeshadows stay on for a long time. I use it all the time! It's a must have.
You know this palette will be hot for Fall! because of the neutral colors that will totally go with your wardrobe! You can create many daytime and nighttime looks that vary from glitter to shimmer to matte. You will definitely fall in love with this pallete!
Urban Decay Naked Palette
It is a BEST SELLER so if you can get your hands on it, definitely do before they are gone. :) You won't regret it. I love it!